My portfolio is expanding. I will now be in the business of building websites. The best way to provide a website with all the whistles & bells quickly is Wordpress. Now links to Wordpress services are included.
I have discontinued Rob's Blog in favor of Hypercritical Mode. Here I will continue to write articles and make posts as I find time. I have added new content recently.
Sungraffix is expanding. I have created a new website to promote my services as a Website Designer, Graphic Designer, and Desktop Publisher. It is sungraffixweb.com.
Rob's Blog is where I write short articles based on my interests often derived from the news I read with links you can find with the Village Spirit pages. There is a lot going on that you will never know from depending on the mass media.
Everyone is welcome to join the discussions at the Forum. Registration is required to participate but the current topics are always visible. Begin a topic and invite others to join in.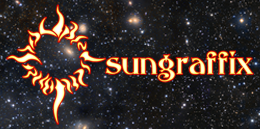 My new site design! I'm busy with school but will add new content as time allows. Some things from my old site will be migrated. This website reflects my interests and will promote my skills. Enjoy.

The Village Spirit pages link to sites for independent news, activism, and choice articles. Learn from the real news, find good causes, and join them. United, we have the power to change the world.
The School menu holds some examples of my schoolwork. I will be adding some web tech examples but I have also enjoyed taking classes outside of the Web Technologies curriculum.