| | |
| --- | --- |
| | I have begun the new site design. School takes priority, but I have created some pages. The news pages are now updated there with The Village Spirit. Content of the home page will be changing. Some links to local pages in this older version of the website might not function. All files of this version have been placed in a folder so absolute URLs to other pages that have not been fixed will not work. |
---
---
---
---
---
---
---
---
---
---
---
---
---
---

1968 - In Search Of The Lost Chord - Player

1971 - Every Good Boy Deserves Favour - Player

30 Zappa Tracks - Player


---
---
Freedom From the Known

Born in poverty in India, Jiddu Krishnamurti (1895-1986) became a leading spiritual and philosophical thinker whose ideas continue to influence us today. George Bernard Shaw declared that he was the most beautiful human being he had ever seen and Aldous Huxley was one of his close friends. Whether debating politics with Nehru, discussing theories with Rupert Sheldrake and Iris Murdoch, or challenging his students not to take his words at face value, Krishnamurti engaged fully with every aspect of life. He is regarded by many modern religious figures as a great teacher, an extraordinary individual with revolutionary insights; Joseph Campbell, Alan Watts, Eckhart Tolle and Deepak Chopra are all indebted to his writings.

Freedom from the Known is one of Krishnamurti's most accessible works. Here, he reveals how we can free ourselves radically and immediately from the tyranny of the expected. By changing ourselves, we can alter the structure of society and our relationships. The vital need for change and the recognition of its very possibility form an essential part of this important book's message.
The Psychopath Project:
Rule of the Psychopaths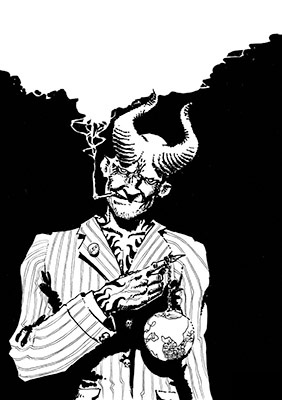 Articles and Documents Supporting the Popular View that the World is being Taken Over and Destroyed by Psychopaths and, of course, that We Are Letting Them
11/11/2014 - This is a little project I just started working on about successful psychopaths in our society. It began as my part of a group presentation for my psychology class. (yet to be presented) I have begun to find quite a bit of information on the subject, in the way of books and articles, and I will be listing my findings here to support my research. -Open Here-
M106 Across the Spectrum 
Image Credit: X-ray - NASA / CXC / Caltech / P.Ogle et al., 
Optical - NASA/STScI, IR - NASA/JPL-Caltech, Radio - NSF/NRAO/VLA


Explanation: The spiral arms of bright, active galaxy M106 sprawl through this remarkable multiwavelength portrait, composed of image data from radio to X-rays, across the electromagnetic spectrum. Also known as NGC 4258, M106 can be found toward the northern constellation Canes Venatici. The well-measured distance to M106 is 23.5 million light-years, making this cosmic scene about 60,000 light-years across. Typical in grand spiral galaxies, dark dust lanes, youthful star clusters, and star forming regions trace spiral arms that converge on a bright nucleus. But this composite highlights two anomalous arms in radio (purple) and X-ray (blue) that seem to arise in the central region of M106, evidence of energetic jets of material blasting into the galaxy's disk. The jets are likely powered by matter falling into a massive central black hole.

Note: How to follow APOD if the US government shuts down

A service of: ASD at NASA / GSFC
---
---

Are You A Zombie? Click to Find Out!
---
Sorry, Grooveshark bit the dust. The players will no longer work.
A Few Album Covers (1559)
---
---

SunGraffix.net by Robert Heston is licensed under a
Creative Commons Attribution-NonCommercial-NoDerivatives 4.0 International License.